Cleveland Church of Evangelical Faith Missions » Current Projects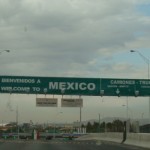 Our mission trips are a blessing for us and the city of Juarez, Mexico.  We preach the Gospel to the spirit hungry people and share the donated food & supplies with the poor and the needy.  We support many Christian Centers (Orphanages, Children's Schools, Nursing Homes, and Rehabilitation Centers) both financially and spiritually.  These Christian Centers are NOT government funded; therefore they depend on our mission and other missionaries for support.  While our team is on these mission trips, we always keep our eyes, ears, and hands open for the needs of the people.
We appreciate your interest in our mission to fulfill God's Calling to us.  We ask you to always keep us in your prayers, so that God would strengthen us to continue carrying His Word to the unsaved and continue opening the eyes of the blind.  This mission is the fruit of everyone who is willing to participate – in prayer, financially, or any other way.  For any further information or if God has laid on your heart to support this mission in any way, please visit our "Contact Page".  Thank You & God Bless!